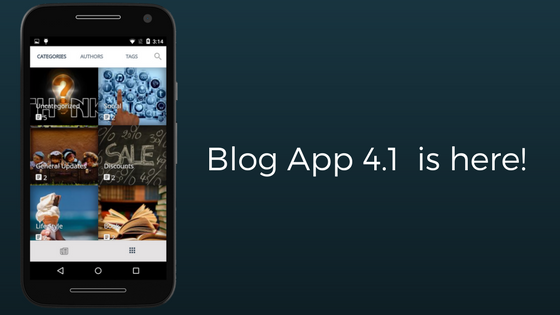 Since we talked about the new designs for the Blog app on our blog, we have been bombarded with emails on when we are releasing it. Thank you so much for your response ! Well, its finally here !!
We are delighted to announce that Blog App v4.1 that brings a host of UX improvements as well the fresh new designs is here and ready for you to download. This release is written ground up on top of the Unite Framework and brings with the goodness of Ionic 2 !
What's more this will be the first release that will support using AC Builder which is also being released today. AC Builder v 0.1 is our first step towards 'Self Service Customization' that's now available on AppCarvers.com. This will currently allow you to manage the base sites for which you want to order apps and also manage and edit app configuration and styling files.  You can read docs about AC Builder here.  
Try the Free version
The free version of the app supports all features except blog authoring and uses AppCarvers branding. 
Get the Pro Version with Blog Authoring
The pro version lets your users blog on the go in addition to all features of the free version
Get a custom build with your own branding
Love the blog app and want one for your own website ? We offer customized builds as a service that lets you brand the app with your own colors and logo. Learn more about Getting your own Customized Build.