As we move into the final stages of development for the new EasySocial app (Unite based), here is an update for you to show you where we are as of now.
We are happy to release Alpha 3 for you to test and provide your feedback. This release introduces the timeline view in addition to bug fixes in the earlier alpha.
Note that, since EasySocial does not offer the newsfeed in JSON, we have some limitations in designing this view to perfectly match our designs. We have requested the EasySocial team to fix this in their future releases. We will be going ahead and releasing this version however with some upgrades on the design to make it closer to ours.
The EasySocial app Alpha 3 is available to download on the play store and app store.
Please download the app and give us your feedback ! Read more for the detailed changelog.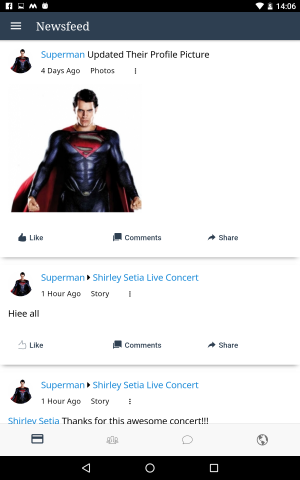 Changelog
#105933 Unfriend functionality is not working
#105828 Event detail:Check the alignment of description text
#105820 Login: Unable to see what is typed in password field
#105801 Add Photo : "Register" name gets displayed in header
#105799 Newsfeed: Add loader in newsfeed till the data is not getting displayed
#105768 Event: Applied filter get reset when user refreshes the page
#104398 Group - Not able to understand how to choose one of the group type in iOS
#104395 Groups - If none of the group type is selected, no error/warning is thrown
#104394 Create Group - No validation is provided for Website
#104365 Groups - If a group is Invite-only type, group details should not be accessed unless user is a member of the group
#104358 Groups - Even though user has accepted the invitation to join group, he gets 'Request sent' icon
#104357 Groups - No option given to withdraw the request to join the group
#104353 Group - Pull to refresh after creating new group shows 'No group found in search'
#104349 Groups - No message is displayed when a new group is created and is in pending moderation
#104347 Events - Details page - page does not load immediately when we scroll up or perform any action
#104346 Events - When there is not more data to display, infinite scroll should not work
#104138 Share what's new - Not able to post a text. It asks for link
#104088 Events - Attending events option does not change in the menu
#104086 Events - Report as spam is not noticeable
#104072 Events - Event Guest is written as one word
#104068 Backend - API package is not compatible with Joomla 3.7
#104062 Events - No message is displayed when newly created event gets created and is pending for approval
#103721 Side menu - If deleted the profile pic and cover pic from site, still it is displayed in the side menu
#103719 Profile - About - Address is displayed in lat/long format
#103700 Events - Open events should be visible to all users
#103699 Friends - Getting "No suggestions" message under All tab due to load time of the view
#103667 Videos list view - Nothing is being displayed on the details view in iOS
#103657 Chats - Page takes time to load
#103656 Friends - "Pull to refresh" is not working
#103654 Friends - The status does not change if the friend request is accepted and user refreshes the search page
#103653 Group Members - Profile pic is not visible for Testtest user
#103644 Register - email field should have email type keyboard
#103643 iPhone - Login - "Login to EasySocial" is overlapping with the Demo Site icon
#103138 Side menu and profile - Avatar image and cover image is not being displayed
#101176 Videos - Getting wrong message when video is deleted
#100900 Friends - User in the list are repeated
#96166 If uploaded a vertical image, it changes to horizontal
#95664 Events/Groups - If a text is too long, the screen becomes horizontally scrollable
#95243 Newsfeed - Only the latest data is being displayed in the app whereas on the site all data are displayed
#94689 iPad>comment:: click on comment box, after this I am not able return back without adding comment.
#94528 Video - If video title is long, the title is cropped in newsfeed, video list view and video detail view
#92125 Videos - Thumbnail for video is not shown
#92091 Moto E - Share what's new - If 'share with' option has longer name, it breaks in the dropdown list
#75847 Uniformity in the app should be maintained for names
#70164 No email notification is sent for new user registration