1 minute reading time
(159 words)
EasySocial Events introduced in jUnite Weekly 4.1!
jUnite Weekly is a weekly 'nightly' release that AppCarvers does to keep subscribers and users updated on the latest developments. These features are then tested and make it into stable builds. Read More here!
It's the end of another week and it's time for another release of jUnite Weekly! This is the 7th release in this series and here's what it brings!
This week our focus has been getting EasySocial events into the app. We bring you the latest freshly baked code from the AppCarvers oven. All Event functions are not in yet, but will be soon!
JUnite Weekly Version 4.1
Events Menu and Events list

Plotting of the Event location in the native Maps application

Allow user to mark RSVP on the event

Events that you mark as going are pushed to the native Calendar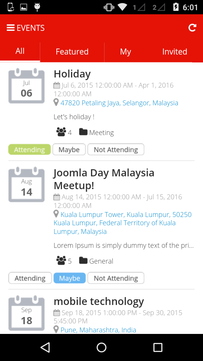 Make sure you subscribe to our blog to get updates on releases.