EasySocial App 5.5 is yet another milestone in the development of this app. With this release, we are introducing two brand new features-Emojis/React for newsfeed and a feature to upload and play videos inside the app from the device.
Like it and want one of your own? Get your custom build today!
Read on for the complete list of features and detailed changelog.
Features
React/Emoji's for newsfeed
With this new feature, users are given the power to express themselves and react to the newsfeed posts. We have added human emotions to your activity stream with this brand new feature. Whether you are happy, sad or angry, we have an emoji for every reaction.
Upload and play videos in the app from the device
Earlier it was only possible to stream videos inside the app through external links via YouTube and Facebook. From this release onwards, you can upload and play videos native to your device. We have also provided validation for the size of the video to be uploaded inside the app. If the video size is large, the video will be compressed and then uploaded to the server.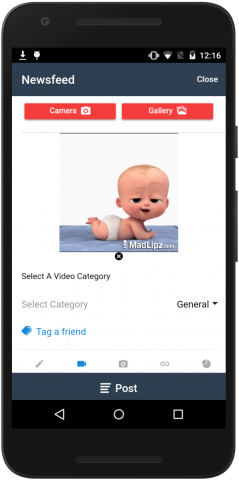 Changelog
No way to see who likes the post for newsfeed.

Implementation image caching in the app for photos, albums.

The back button is not available when user visit group site (for IPA)

User able to like pages even if admin disable like pages config

Friends API takes time to load data when the user has huge numbers of friends

Display only story & link options on story dashboard

Double comments getting the post when user post comments on picture or story

Need to refresh album page 2-3 times to see albums images

Display incorrect count of images in the album

Like button getting disappeared on IOS build when the user like any post for videos

photo list should display photos in descending order

Blog image is not getting displayed on the newsfeed for EasySocial

Audio HTML are not shown in full length for Newsfeed

Unable to select event end time

Takes too much time to upload all pictures